The True Cost of Airtel Megapack Data Plans
Where do I begin? I end this post by showing you that with Airtel Megapacks, you (like I was) probably are not paying for what you think you are paying for. I am not trying to sound "new-school preacher rhyming"…I mean really!
I was lucky to have been introduced to the Internet even before GSM commoditized mobile data. This was around '99, and oh boy did NITEL suuuuuuuuuucke-hic!-slooooww! I mean this was the era of dial up, so NITEL may as well be forgiven. You see, I've been around data networks since then and in the past few years, earned a living in and around networking and telecommunications. I know what it feels, smells and sounds like, and I know the good stuff and can't get high enough off it.
On the 17th of last month, I subscribed for the first time to the Airtel Megapack; specifically, the 5000 Naira for 12GB plan. Before making this move, I had used glo (hell does glo), MTN (who e'cost epp?), Etisalat (fast but poor coverage in my study) and Airtel (Android plan was a good complement to my Wifi Service from Odua Telecoms).

Fast forward 10 days later, and I had consumed 12GB! At that time, it didn't occur to me that something was amiss, I just dipped in and without much thought to it, bought myself another 12GB on the 30th.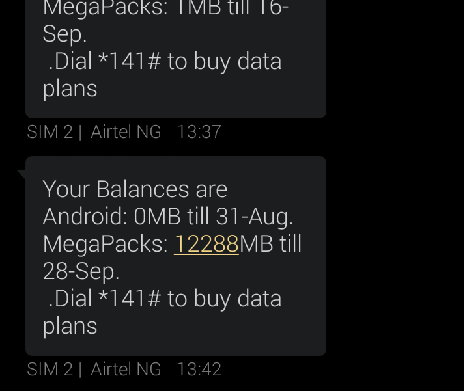 Today, after listening to about 20 minutes of tunein, I decided to check my data balance. 8 days after purchasing the 12GB Airtel Megapack, I had just 2,941MB left! How? Come??
Fortunately, just to keep my data usage in check, I had enabled data metering on my mobile phone the day I subscribed, so I immediately launched the app (N.B this is the in-built metering app that comes with the OS) and realized I has just used 5.45GB!
With this evidence, I was fired up and were it not for the time of day, my good contacts at the NCC were only a call away. To confirm I was not making a mistake, I downloaded another app, Data Monitor and decided to track and observe my consumption vs what Airtel reported. Indeed there was a huuuuge discrepancy.
| | |
| --- | --- |
|   |   |
|  Data Monitor Reports 65MB+/- 2MB |  Airtel Reports 140MB (2885-2745) |
So, obviously, we're not talking measurement or observation error difference here, we're talking "sky and ground" difference.
I should mention I had tried to reach Airtel on Twitter, via their @airtel_care handle, but up until I wrote this, they neither acknowledged nor replied – it's becoming the norm these days via their twitter channel.
By now, I was no longer upset, just giddy from the thought of having caught a whole Telco, being dishonest…or were they? Certainly, 1000Mb is 1GB, and when someone says my "MEGA" pack is MEGA, you surely think "DEAL! DEAL!! DEAL!!!", but it isn't.
It turns out that Airtel wasn't being outright dishonest, they just resorted to the 'ol "fine line trickery" a.k.a Now You See Me 3. Take a look for yourself and tell me if you see. (lifted from the airtel site)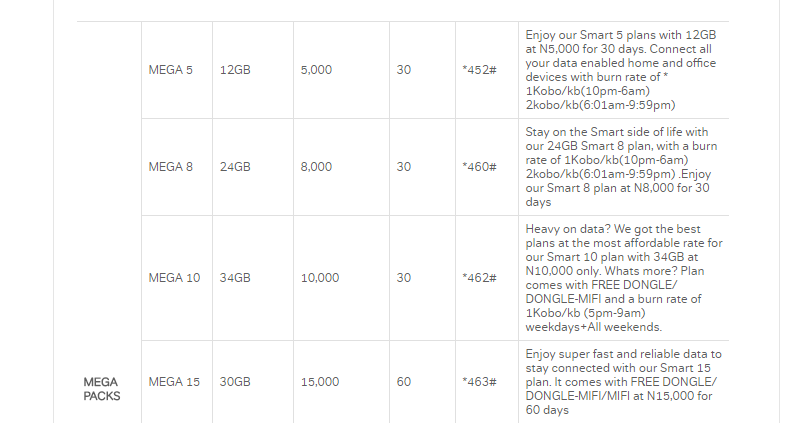 You didn't look…scroll back up and look.
Well, if you saw it, you got good eyes. If you didn't see it, look…
I call it the "Burn Rate Magic", and it's the first time I am coming upon this trick. But there's a first time for everything I guess. It didn't take me long to understand how this burn rate influences the true value of the Airtel Megapack plans, and guess what, "At most times, you are getting half of what you think you are getting."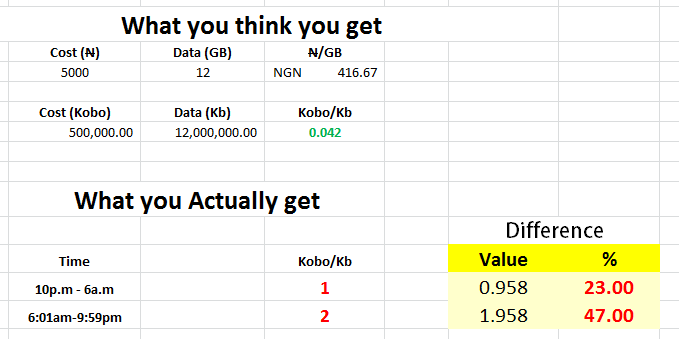 You see, at night, you are paying 23% more and during the day as much as 47% more than what you think you are actually paying for. Another way to put this is that you're effectively getting half of the data you probably paid for.
Now that I know this – that I really have been paying 5K for 6GB for the Airtel Megapack 5, instead of 12GB, you bet tomorrow morning, I'm re-evaluating my plan.
I am done being played!
Note: It seems the trickery ends if you subscribe to the Airtel Megapack 15 and up, but I won't be taking that chance; putting together this post was hard work men!