Moving your cpanel site from one host to another
After having hosted some personal sites and the websites of a few customers, I decided it was time to move on to a better reseller hosting platform. In order not to make it get confusing, let's call my previous hosting provider WebBall, and my new and current hosting provider Wandhost.
I had to figure out if I wanted to move the domain names, but decided it wasn't of any benefit since 99% of the thirty-something domains I registered with WebBall were personal and not really active.
I then had to figure out how to move the websites (files, databases and configuration). Initially, I thought it would be trivial – just move WHM from WebBall to Wandhost, but alas this was not to be so. The guys at Wandhost needed me to move each individual site, and I'm going to show you how.
First, I created a full backup of each site by logging in to the cpanel portal and under "Files" (see image below),
…clicking on "Backup Wizard". This brings up the Backup Wizard view. (find image below)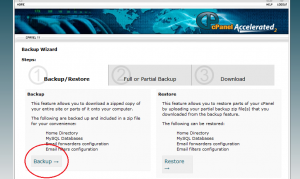 Clicking on the "Backup->" link (as shown above) took me to the second step of this 3-step process.
I then had to click on "Full Backup ->" to proceed to step 3. (shown below)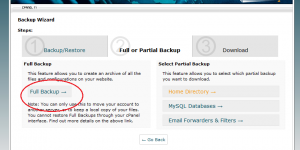 Now, before going ahead, I had to determine the FTP details of my Wandhost hosting details. Generally, it is located at cpanel->Files->FTP Accounts. (see image below)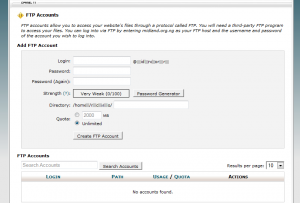 In order to have the files transferred directly to the home "/" directory, I had to use the "Special FTP Account" details located at the bottom of the FTP Accounts page. (see image below)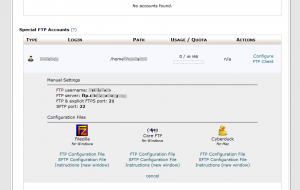 Note: You definitely can download this Full Backup file to your hard drive, but the reasons you may not want to do this are:

The backup file might be huge as it contains email attachments, emails, website files, database entries etc.
As a result of 1 above, and in the event that you do not have an unlimited data plan, you would not want to be downloading a 6GB file – only to have to upload that ~6GB file again to the new host.
…you get the picture.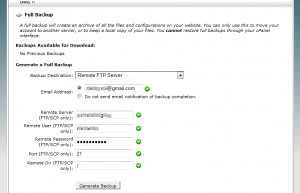 Once I had entered the FTP details into my Full Backup generation details page (as shown above), I clicked on "Generate Backup" and waited for the process to complete – I was sent an email upon completion. This backup involves compressing the backup files and sending it via FTP to the remote Wandhost hosting server.
By the end of this process, I had transferred a full cpanel backup archive from my WebBall to my Wandhost hosting platforms.
I will be completing the Part 2 of this tutorial very soon, and you'll get to learn how to complete the transfer of the html directory, databases and configuration files – and most importantly, the things that could go wrong and how to fix them.