Finally, MMM Nigeria Has Crashed
Category: Scams
13 Dec 16
For those who follow the recent happenings around MMM, it is no news that MMM Nigeria has been hanging by a thread these past 4 weeks. Now we can confirm that finally, MMM Nigeria has crashed.
13/12/2016, mark that date as the date MMM Nigeria collapsed, however the writing has been on the wall for a few weeks, and I believe what we have read and heard these past 48 hours is the last few pieces of the domino crashing.
Need evidence, let me give you a few. In order not to make this an unnecessarily long post, I'll be shortening those awfully written letters.
The Open Letter from Sergey Mavrodi
Honorable authorities,

So far MMM has come under a constant attack from you. In this regard, I would like to ask you a few simple questions. Since you are concerned with the interests of millions of your fellow citizens, I hope that  you would be so kind to answer them.

…

2. You say that MMM is a scam. What is the scam here, if all members are warned in advance about all the risks, the possible and impossible ones? They know there are no investments at all. The warning is a red text on a yellow background placed on most prominent place of the website. (Ha ha haaa…)

3. You say that MMM is bad. Why? Yes, it produces nothing, but nothing gets out of the country either (This one is mad finally o). The money is just redistributed among the citizens of Nigeria. It gets from those who are richer to poorer ones (really? the market women crying right now are among the rich?), in this way restoring social justice. What""s wrong with that?

4. You have repeatedly stated that "it should be investigated!.. researched!.." It means you know nothing about this System yet; you even haven't understood how it works. Isn't it completely irresponsible of you to make all these allegations and play with the lives of millions of ordinary people? (yada yada…)

5. And finally. If you know what is right for people, why is the life so bad in the country?

…
There was that "sudden" bonus to keep money in the system. It even had a fancy "gift popping out the box" banner!

Holiday Bonus from MMM Nigeria: + 20% on all contributions made before January 1
In 2016 the MMM Community united millions of people in Nigeria. Regardless of their age, social status, ethnicity or confession, millions of Nigerians help each other with MMM and change their lives for the better. And we will do our utmost to make the new year even better than the last one!

On the occasion of the upcoming holidays, we are introducing a bonus: +20% on all contributions made from December 7 to January 1. So, when you provide help, for example, in the amount of 1,000 naira, you will be granted 1,000 Mavro-NGN plus a bonus of 200 Mavro-NGN (so it will look like you provided help for 1,200 naira).

Holiday Bonus Terms:

The bonus is frozen for a month after the PH-request is created.
The bonus will be granted only for "new" money. It means, if you created a request to get help after December 7 and later you provided help for the amount you withdrew, you will not get the bonus.
You should not create a request to get help until the bonus is unfrozen (this will be after one month of providing help). Otherwise, the bonus will disappear.

These conditions are necessary. Otherwise members will repeatedly withdraw the money and provide help for the same amount many times in order to get the bonus. So, if you want to receive the bonus, you should not create a GH-request from December 7 until the moment the bonus is unfrozen.

…
Now doesn't all that sound like gimmicks to keep people "entertained" while the system crashes around them?
But it gets better, FREE money. I mean, other people's money.
A 1000 Mavro-Naira Gift for Every Newly Registered
It has already been one year since the MMM Community brought Nigerians together to help each other and change their lives for the better.  To celebrate this first anniversary, NMMM Nigeria announces a new promo. Every person who will register in MMM in the period from November 24 up to November 30 will be awarded 1000 Mavro-Naira as a gift. (Gifts! Christmas right…)

…

Dear members! Use this promo and invite all your friends, acquaintances, colleagues, who are not MMM members yet, to join our Community! (Why wouldn't they…:))
Then there's more…Remember when I tracked down and wrote about Pastor Mbanefo, the supposed No.1 MMM participant in Nigeria? Well, he seems to be on the run and damaged his gateway :)…at least that's what the current status of his website indicates.

Cut: I can't imagine how much this man has made off the system! Did he know of it's impending crash? I'm guessing it's only a matter of time before all his youtube videos are scrubbed.


Finally, the deal breaker…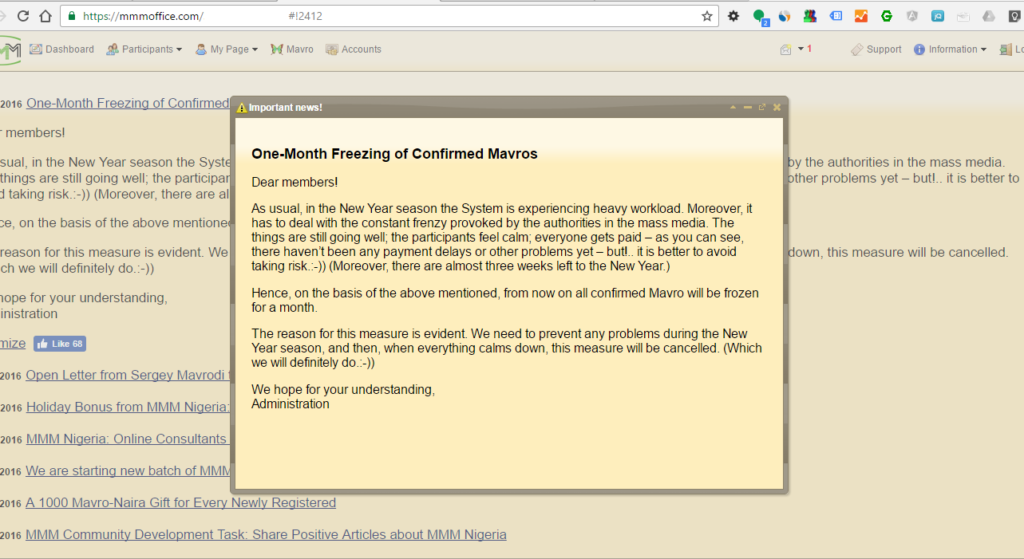 News broke this morning and spread quickly of the fact that MMM has finally crashed, at least that's what this bullshit of a note says.
First, it begins with a lie by saying we are in the New Year, we are not. Then it talks of heavy workload…didn't just a few hours ago, Sergey himself brag about the potential of MMM to grow from 3Million participants to 195Million? Workload??
Then the letter goes ahead to talk about payment delays, but by looking at the testimonial scroller on the main MMM website, you will observe that the last testimonials were submitted 12/12/2016.
Lastly, if this letter doesn't smell of smoke from the fire on the mountain, then you my dear reader need to have your nose checked. Did you observe that the usual "enthusiasm" is missing from this letter. Where did the "Together We Change the World" go? Rather it is an ominous "We hope for your understanding."
So Who Suffers?
Jacky Uchenna Ogbonaya, had this to say on the MMM Nigeria Facebook page, and he certainly describes those who will suffer from this collapse.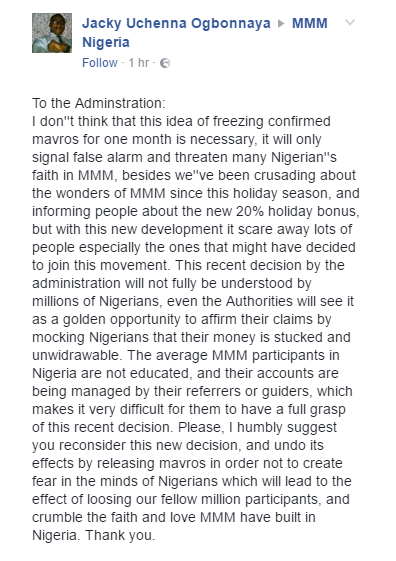 "The average MMM participant", the tomato seller, the school student, the okada rider, the nurse are the average losers. But hey…Sergey told you so!
Well, that's it folks. Game Over!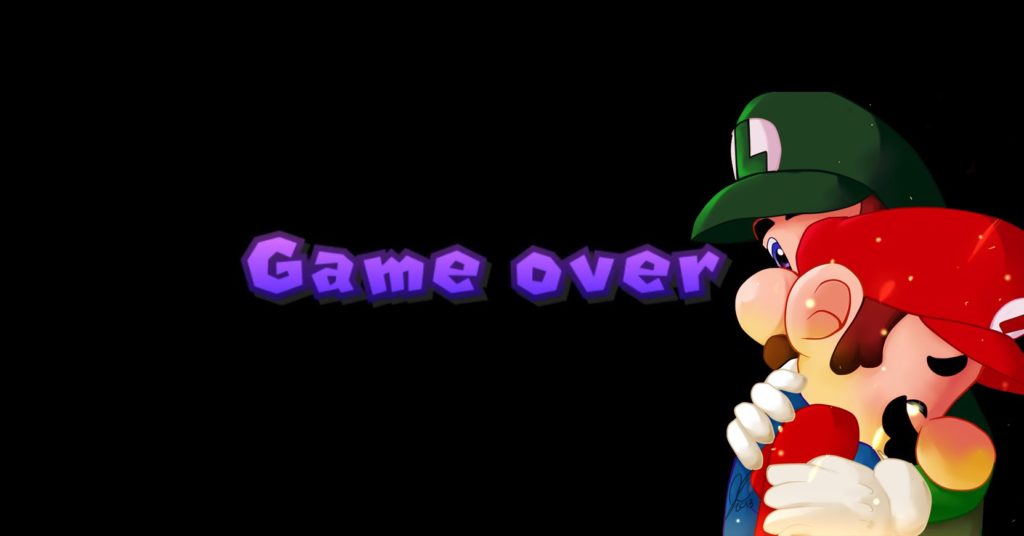 If you find an error in this post, drop me a comment below. If you think I missed a pointer, drop me a comment below. If the reality frightens you, I can't help you…but you can still drop me a comment.