Airtel Nigeria Data Plans Cheat 2016
I woke up this morning with the sour taste of yesterday's discovery, that I was effectively getting half of the data bundle bought from Airtel Nigeria. The taste still lingering on my lips, I hit twitter to do some research into how many people actually knew about this problem with the Airtel Nigeria Data Plans.
By doing an advanced search using "megapack @AirtelNigeria, OR @airtel_care", the following tweets came up. That only 1 person had so far complained of a perceived discrepancy either meant everyone was aware of and accepted the hidden terms, or Airtel had effectively pulled off one of the best abracadabra. I think the latter is in effect.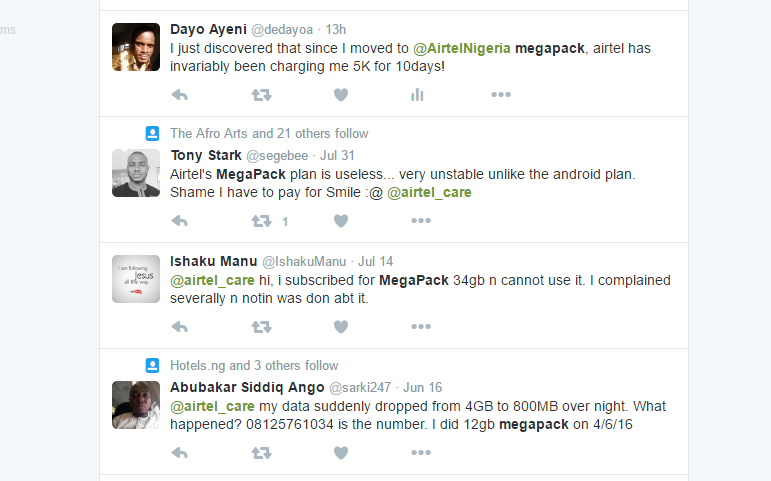 After I published the post last night, there were quite a bunch of retweets from those who were probably confused, but like me initially didn't know what to make of the speed at which they seemed to be consuming data.
Upon further investigation, I discovered that the "low end" of the Airtel Nigeria Data Plans were riddled with these buffed-up plans. And according to my limited survey, these were the most popular plans.
I believe it is important for every consumer of a product to be provided with plain, clear and honest pricing of the product. I would say NCC needs to see to it that deceptive marketing or pricing schemes are not tolerated in the industry. This game that Airtel (and probably Glo but does anyone still use Glo??) needs to stop.
When customers go "What happend?!"…and it's coming from probably a lot of customers, considering how issues reported on twitter pale in contrast with those reported to the call centre, plus most issues are expanded upon via Direct Messaging, then you can see it's a situation that needs to be addressed.
Again, I reached out to airtel via Twitter DM, but 1 hour later, I am yet to get a reply.
Anyway, find below the ACTUAL data allowance you get.
When a company says "Data Allowance", it should mean "Data Allowance". If the intention was not to deceive, then these type of plans should either be called something else, or moved to a different table.
The point is, Airtel Nigeria could have done 100 things to make the distinction clearer, but they didn't.